host with us and enable change in our community, one event at a time
Are you looking for a unique and impressive location for your event?
St Mary's is a stunning, Grade 1 listed central London events venue, available for hire Monday – Saturday.
Find pricing and more in the brochure below.
Get in touch to find out how we can make your next event a success.
Stunning, Celebrated
Grade I Architecture
Outstanding Sound,
Visuals & Lighting
Large Capacity
for up to 700 guests
The knowledgeable and friendly team will help you ensure your event a fantastic success. 
Situated in Zone 1, there are a number of stations close by as well as parking options.
Support us to continue to make change in our community & further afield.
Both the Ground Floor and Undercroft are fully accessible via a lift & there is a hearing loop.
The on-site commercial kitchen caters for up to 300 guests.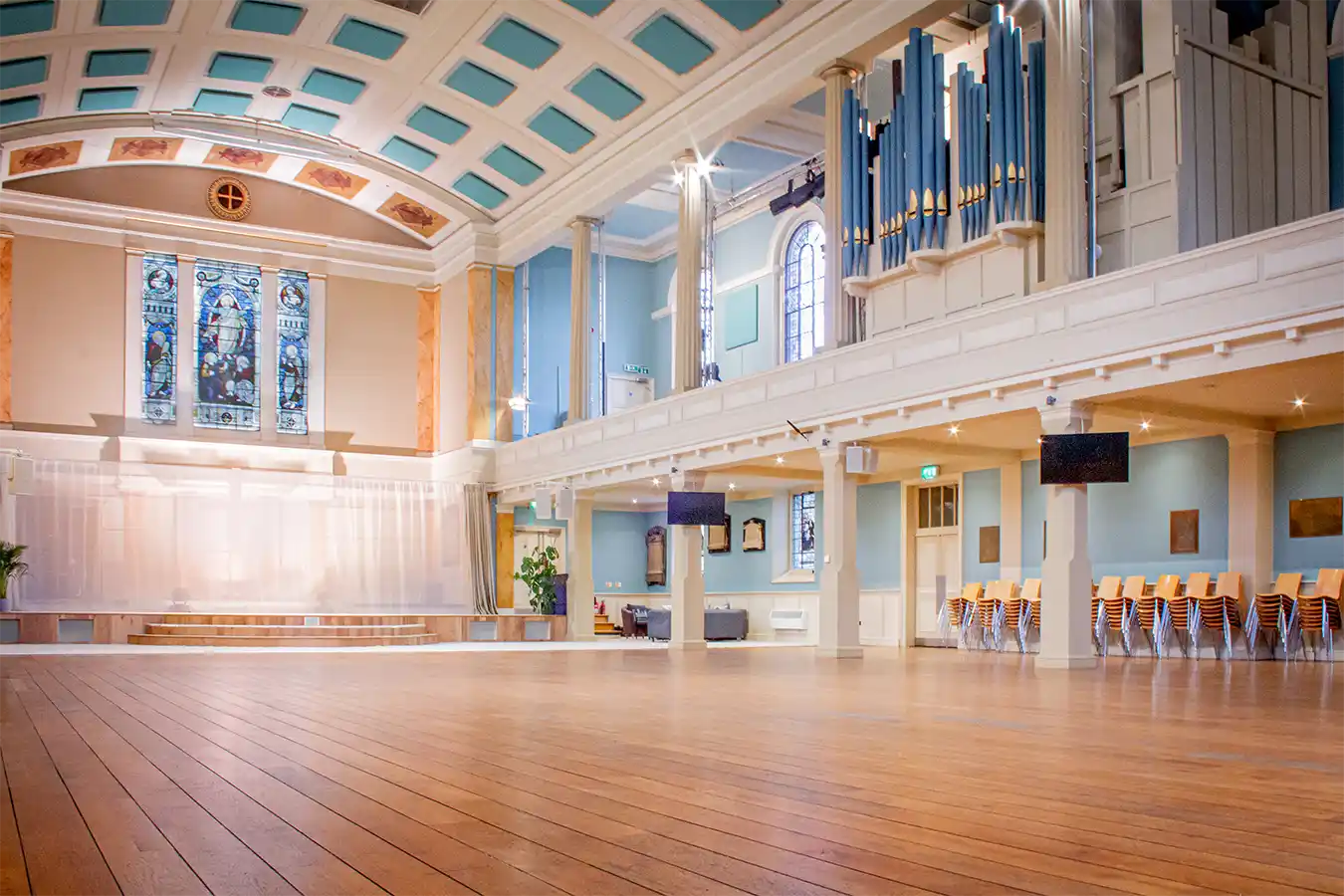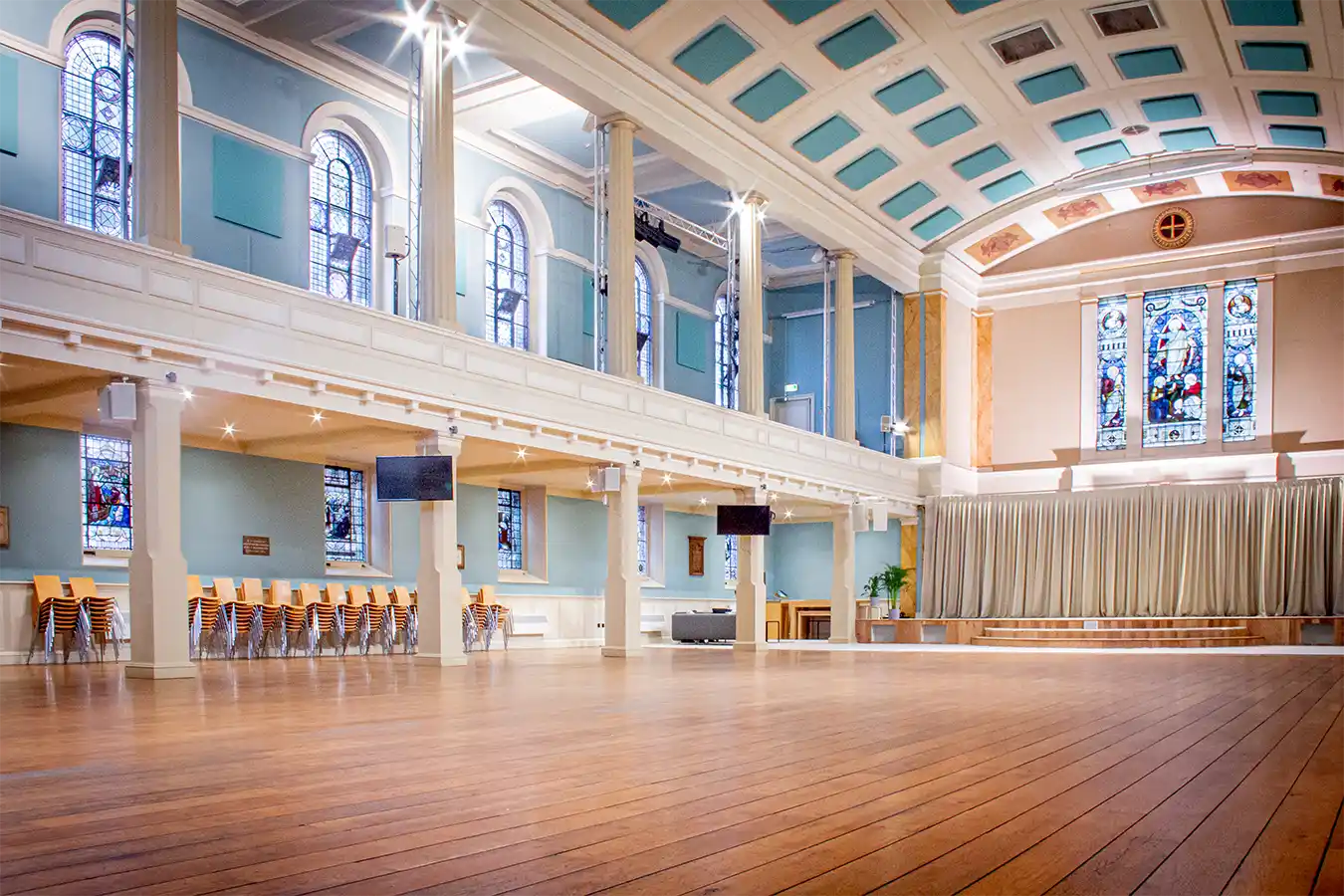 The Great Hall is a unique and impressive setting for any event. Featuring beautiful Georgian details, high ceilings and wooden floors, it is certain to impress your guests. With over 573m sq of space and exquisite stained glass windows, the room is both bright and spacious.
The space features an inbuilt sound, lighting and visual system which includes a 4m projection screen. To ensure you have a smooth and easy experience we offer in-house engineers who will be able to assist you with all of your technical needs.
The Undercroft is a flexible and spacious room included in the hire of The Great Hall. The main space is just over 305m sq and features exposed fittings and oak paneling to create a modern, industrial feel and is the perfect blank canvas for your event.
The space contains a moveable, sound-proof wall, allowing you the flexibility to create two separate rooms. Additionally, there are three meeting rooms along the edge of the space, which make superb green rooms or breakout spaces. The commercial kitchen is also located here and can cater for 300 guests.
Dry Hire with all the Extras
Enjoy the flexibility of dry hire without all the stress. Our beautiful blank canvas space allows you to create an event customised to your vision and our supplier list equips you to bring it all together. 
We offer a fabulous range of caterers for all budgets (some even offer event management!), specialist event builds, on the day event staffing and audio, visual, lighting and livestreaming suppliers.
Everything you need for a perfect event.
"We held a fantastic corporate event at St Marys Marylebone in Nov 2023. The venue were very professional to work with in advance and onsite. It's cost effective, supportive staff and their recommendations of caterers worked well too (we used Little Piggy and would 100% recommend!). We will definitely be back for another event. Cracking venue!"
"My husband and I hosted our wedding reception at St Mary's on the 20th May 2023 and honestly could not have been more thrilled to have found this gem of a venue in such a prime location in London! Megan, Charlotte and their team were such a joy to work with. They were professional, courteous and went above and beyond to make sure we were prepared for our big day! We cannot recommend St Mary's enough, book your venue visit asap!"
"We had a great time hosting our charities first ever National Conference at St Mary's. The venue was beautiful and the staff team could not have been more helpful from the initial enquiry right through to the running of the day. They made it all so easy for us. We used one of the venues recommended caterers, Gurkin, who made us beautifully presented and really tasty food to treat our guests with. We will definitely be returning for our next conference ."
"Lucy and I could not be more grateful to St Mary's for making our wedding day so incredibly special and stress free. Charlotte and Megan were fantastic throughout the planning process and ensure everything ran smoothly. Their attention to detail was exceptional and they went out of their way to make sure the day ran exactly as we planned. St Mary's is a stunning venue, beautiful on the inside and out, and was the perfect place to host all our loved ones. We will cherish our memories created there forever."
"Fantastic venue, with exceptional service and responsivity in the lead up to our event. The onsite team are so helpful and friendly, and I can't wait to hold our event here again next year. Highly recommended"
"The staff and venue was absolutely amazing. We hired the venue for our charity walk start and finish location and it was perfect. We had around 900 people in total walking for us that day and it was a real success. Pre event the staff were super helpful and knowledgeable and made us feel really confident about the event as did the on the day team. Thank you so much for helping us deliver a fabulous and memorable day for our community."
"We organised a two day event at St Mary's London for 300 healthcare professionals. The hall certainly had the WOW factor and the staff were all extremely helpful in the lead up to the event and on both days. It's a long time since I've used a dry space but they made sure nothing was forgotten or left to chance. It was such a success that we hope to repeat the event at St Mary's next March."
"We recently hired this venue for a wine tasting event and it was a big success. The venue team were a delight to work with and made the organising and running of the event really easy. There is a lot furniture on site which you can use and the built in AV is also a great bonus. We will definitely be using this venue again."
"As an event organiser I have worked all over the world and this is now one of my favourite venues. I think it is perfect for all kinds of events and the acoustics for live music are amazing. The team are a dream to work with and very helpful and accommodating. I would highly recommend St Mary's as one of the best hidden gems in London."
Could we host your next event?